Highway Code 57
Posted on
Whether going to the vets or going on holiday there maybe times when you need to travel with your dog in the car. For your own safety and that of your dog they need to be properly restrained while travelling.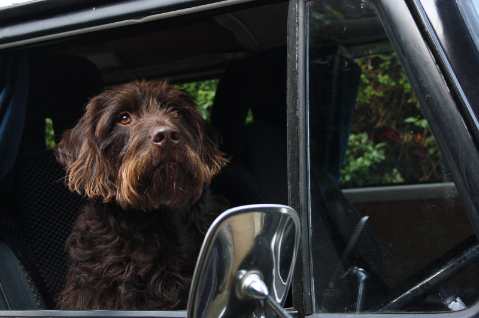 If a dog distracts you while driving you could have a serious accident. A dog could also be thrown around or potentially out of a car if you were to stop in an emergency.
The Highway Code rule 57 states that
'When in a vehicle make sure dogs or other animals are suitably restrained so they cannot distract or injure you or themselves, if you stop quickly. A seatbelt harness, pet carrier, dog cage or dog guard are ways of restraining animal in cars.'
Seat belt harnesses are usually a harness that your dog wears and has a clip that attaches to the harness at one end and into the seat belt holder on the other. These harnesses should attach to the dog on the body and not the neck.
Pet carriers are flexible or rigid boxes used to carry your dog. They should be a suitable size for your pet and also be in a secure place in the car so they cannot be thrown around as the car moves.
Dog cages can be secured into the car to provide a safe place for your dog.
Dog guards restrict the area of the car that your dog can move around in. They are usually fixed at the back of the seats and prevent your dog from jumping over into the rest of the car.