The Beetle Drive & The Break Down
Posted on
Yesterday we attended the Beetle Drive at the Crich Tramway Museum in Derbyshire. After an early and cold start we set up our stand inside the museum along side some of the trams. Thank you to everyone who came to visit us. The new bandanas from www.puppybandana.co.uk were a great success, hopefully we'll be getting them online soon with different designs and sizes. I hope everyone got home safe in the rain that started at the end of the day, it's only just stopped where we are.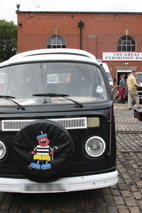 Our old camper van Bertie didn't want to go home and decided to stop just outside Nottingham. Thanfully an RAC man managed to get him going again and then we just had M1 traffic to deal with in the pouring rain.
Hope to see you all again next time.