Things to do with Fido (or Max or Bella or Alfie). | Attractions to visit with your dog.
Posted on
Crich Tramway Museum | Derbyshire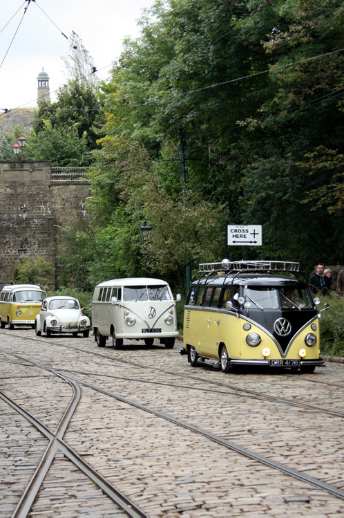 Crich Tramway Museum is a dog friendly museum situated in a period village including pub, café, old-fashioned sweet shop and tram depot. You and your dog can take a ride on a vintage tram down the cobbled streets and then into the exhibition hall where there is a large display of heritage trams. There is also a woodland walk and sculpture trail with views across the Derwent Valley. Dogs on leads are welcome in all areas of the museum excluding any food/catering facilities and the children's play area. Admission is valid for one year. Please visit www.tramway.co.uk for more information.
This museum is also close to the High Peak Trail, Black Rocks, High Peak Junction and Matlock Bath. The perfect area for you and your dog to spend the day hiking.
Ryedale Folk Museum | North Yorkshire
Ryedale Folk Museum is an open air museum where dogs on leads are welcome, situated in the North York Moors National Park. Explore the model village, farm machinery and displays, an iron age roundhouse, photography collections and more. Visit www.ryedalefolkmuseum.co.uk for more information.
King Edward Mine | Cornwall

Well behaved dogs on leads are welcome at the King Edward Mine Museum, Cornwall. Exhibits show visitors about the history of the mine and how it has survived over 100 years. There are also the Mineral Tramways, 31km of trails with free parking. These trails closely follow old tramways and railway lines that once used to link mine buildings to ports. On long the way you can see some of the conserved mining buildings and some wildlife only found in these areas. The trails are sign posted and mainly off-road. Visit www.kingedwardmine.co.uk for more information. Open April - September.
Eden Camp Modern History Museum | North Yorkshire.

Sited on an original World War 2 prisoner of war camp Eden Camp recreates the atmosphere of wartime Britain, showing visitors a taste of what it was like for civilians. Well behaved dogs on leads are welcome in all areas except the children's play area, gift shop and café. This site also has plenty of free parking. For more information please visit www.edencamp.co.uk.
Please check the individual websites before setting out as they will have varying admission charges, opening times and seasons.