Waggy Campers Guide to travelling with your pet
Posted on
What you need to know about travelling with your pet.
Wether you're considering jetting off across the world or staying closer to home this guide should help your trip go smoothly.
Under the PETS travel scheme dogs,cats and ferrets can return to the UK after travelling to an approved list of countries without the need to go into quarantine.These countries include Denmark, Fiji, Canada and the USA to name a few. The DEFRA and GOV.uk websites have more detailed information as well as the full list of approved countries.
Before travel your pets need to be microchipped, have a pet passport, be vaccinated against rabies (at least 21 days before travel), be treated for tapeworm and travel via approved companies and routes. These rules need to be strictly adhered to or your pet could face quarantine or be sent back to the country you're travelling from. Your pets return journey should also be booked before you leave.
Before travelling its also a good ideas to consult your vet about any treatments or medications your pet might need before travel. Check out any local laws concerning your pet as well, some countries have stricter rules about keeping your dogs on leads for example and where they are allowed to be walked.
Travelling by car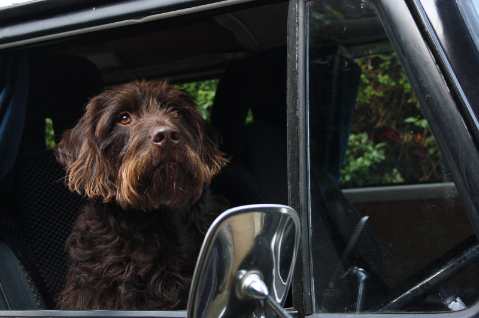 Dogs should always be secured when travelling in the car for their safety as well as yours, if an accident happened an unsecured dog could be thrown around the vehicle. There are a number of ways to secure your dog from harnesses with seatbelt attachments to dog guards and containers. Choose the one that you and your dog are most comfortable with using. You should provide enough ventilation for dog as well as water, and be able to provide your dog with food if necessary. Never leave your dog in a car on hot days
or in strong sunlight.
Travelling by train
If you decide to travel by Channel Tunnel your dog will stay with you in the car, be aware that there are no toilet facilities for your dog while travelling through the tunnel. It's best to try and exercise your dog while at the terminal, although there will be a lot of traffic in this area. You should provide your dog with adequate ventilation, food and water if necessary. Eurostar do not accept dogs except assistance dogs.
Travelling by ferry
When travelling by ferry your pet will usually be kept in a container or in your vehicle. Make sure the ferry company are aware your car has a live animal inside and follow their instructions. Make sure you provide enough ventilation, food and water for the journey. Ask what the carrier's position is on you being able to check on your pet while at sea as for safety reasons you may not be able to check on your pet during the voyage. There are some ferry companies that have pet friendly cabins where your dog can stay on the ship with you, and may possibly have an outdoor area for you to exercise them.
Travelling by plane
On most airlines if you take your pet with you they are usually kept in hold for the journey and you will not have access to them. There some airlines that do not accept pets at all and some airline, usually domestic flights, will accept smaller dogs and cats in crates as long as they fit under your seat. Contact your airline for information on what you need to provide for your pet to travel with them. DEFRA has a guide on the type of container you need to provide for your pet to fly. There are also restrictions on young animals and any that have recently given birth.
Above all consider what is best for your pet. Will they enjoy travelling as much as you do ? or will it cause them stress ? If don't think you can provide your pet with a safe comfortable journey consider one of the many options for having someone else look after your pet while you're away.