Charlies Silver Medal
Posted on
Last Tuesday Charlie passed 'The Kennel Club Good Citizen Dog Scheme Silver Award', at his training school Wag 'N' Train, where he goes every Monday morning. The scheme is the largest dog training scheme in the UK and helps to promote responsible dog ownership and build the relationship with your dog. Charlie also loves the weekly sessions as he gets to meet all sorts of different dogs and there's usually guaranteed treats.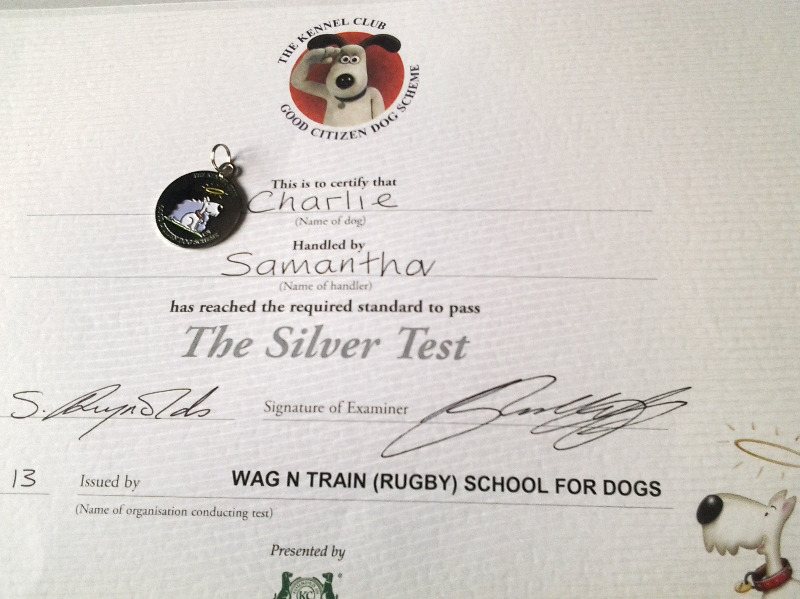 Charlie passed his bronze award in 2012, this award mainly focuses on getting your dog to behave in a controlled manner and getting them used to being handled.
For the silver award Charlie had to some road walking involving waiting at kerbs, crossing the road and passing other people. Then there was vehicle control where I had to show that Charlie would get into the car when instructed to do so, the car was then started and Charlie stayed calm without moving about too much and didn't make any noise. He then had to exit the car only when told to and in a calm and controlled manner. Then came the questions for me. At the start of training you are given sheets of information about dog care and responsibility and during the exam you have answer questions asked at random about the information contained in the leaflet.
Next he got to play with one of his favourite toys 'Sheepie' to demonstrate that he enjoys being with me and happily plays. Food manners and controlled greeting were next, Charlie and I walked for a short distance and were then greeted by the examiner and Charlie had to sit quietly for a few moments while we talked and not jump up. The examiner then gave me a biscuit which Charlie tried to get to move with his eyes only but didn't attempt to steal it.
He nearly mucked up his stay for 2 minutes but luckily did it in the end, for the gold he will only get one chance to do everything right though. Charlies recall and come away from distractions were perfect, and he let the examiner give him an inspection without too much fuss.
Now Charlie has his silver medal to go with his bronze and his certificate, the treats he got from the examiner didn't make it home. Next step the GOLD.
For more information about the Good Citizen scheme visit the Kennel Club website, you can also find training centres in your area that take part in the scheme.