Dogs in Hot Cars
Posted on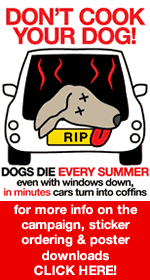 Never leave a dog alone in a hot car. Dogs have a different way of cooling down to humans, mainly panting although they do sweat from their paws. There is not enough air flow in a parked car to cool a dog down enough even with the windows fully down, let alone a few inches. A car can reach up to 47 degrees in less than an hour when the temperature outside is 22 degrees even on a cloudy day.
If you see a distressed dog in a car on a warm day at a event or supermarket make them aware and try to get them to make an announcement. In an emergency you can call the police or the RSPCA.
You can check out the DON'T COOK YOUR DOG! campaign by clicking the image. This site raises awareness about the dangers of leaving dogs in cars, you can also download posters ad banners to help spread the word.
During the recent heat wave in the UK there have unfortunately still been cases of dogs being rescued or dying in hot cars even though temperatures have been reaching into the 30's.
Recent UK stories.
Dogs rescued from car in Somerset.
Dog saved from sealed van in Chichester
Dog dies in Bury, and dogs die in Bradford after being left in cars.