Dog Bandana Size Guide
This is a guide only all dogs are individuals and may not conform to their breed standard. The best way to choose a size is to measure your dogs neck. Using a soft measuring tape measure around your dogs neck where the collar usually sits adding enough for you to comfortably be able to fit two fingers between the tape and your dogs neck. Alternatively measure your dogs collar against a ruler or hard tape measure. When ordering an over collar bandana please note that they are made to only cover approx. half of the full neck size. If you need a a custom size please contact us.
Tie bandana sizes please scroll down for over collar sizes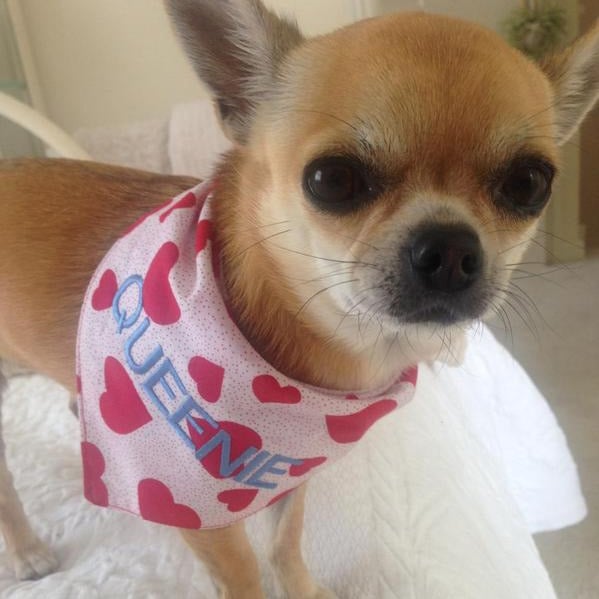 Small Size
Up to 12 inches/30 cms

Chihuahua
Chinese Crested
Yorkshire Terrier
Medium Size
Up to 16 inches/41 cms

Jack Russell
Pug
Westie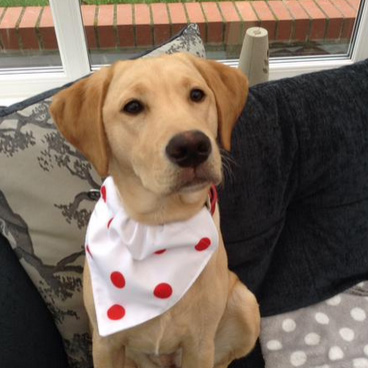 Large Size
Up to 23 inches/58 cms

Labrador
Boxer
Dalmatian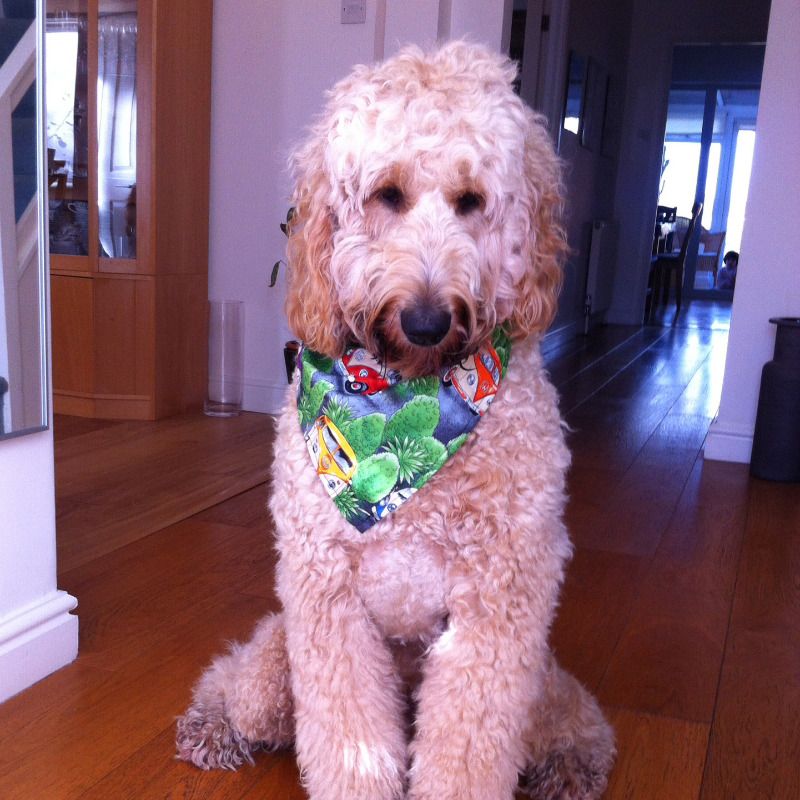 Extra Large

Up to 30 inches/76 cms
Great Dane
Rottweiler
Great Pyrenees

Over collar bandanas have a channel sewn into them so you can slide them over your dogs collar. They are not suitable for collars that don't have a buckle, e.g. martingale collars. The small bandana has a gap for smaller collars approx. 1/2 inch wide. The medium has a gap of approx. 1 inch. The large and extra large have a gap of approx. 2 inches. If your dog has a wider collar please contact us when making your order.

Example Dog Breed Neck Sizes
Alaskan Malamute
Beagle
Border Collie
Boxer
Chinese Crested
Cocker Spaniel
Dalmatian
Doberman
German Shepherd
Golden Retriever
Great Dane
Greyhound
Jack Russell
Labrador
Springer Spaniel
West Highland
Yorkshire Terrier
18-24 inches

12-18 inches
14-18 inches
16-22 inches
8-11 inches
12-18 inches
14-20 inches
18-24 inches
18-24 inches
16-24 inches
20-26 inches
14-18 inches
10-14 inches
18-24 inches
14-18 inches
14-16 inches
6-12 inches

45-60 cms
30-45 cms
35-45 cms
41-56 cms
20-28 cms
30-45 cms
35-51 cms
45-60cms
45-60 cms
41-60 cms
51-66 cms
35-45 cms
25-35 cms
45-60 cms
35-45 cms
35-41 cms
15-30 cms